DSMA June blog carnival: Diabetes Trouble Shooting
DMSA June Blog  Carnival Topic:    What are the best resources you have used to help trouble shoot? 
There are  a lot of times in my diabetes life that I do not understand!  I've tried hard trying to figure out whyI have a "perfect" blood glucose streak for a week straight and the following week-my numbers look like poo!  Yes, I compared high and low bg's to poo-that's what they are poo.   I know I may not ever figure it out. Diabetes is a complex, hormone senstive, food hating  condition that anything can cause it to go wacko.  I am glad I have the support and knowledge of the DOC.   I didn't know protein can cause my bg's to spike (thanks, twitter).   I learned extending bolous's can help post meal spikes (thanks, DOC).  I also learned that by soaking my POD in baby oil before changing-it  helps loosens the adhesive which results to a painless pod change (thanks, parents of CWD's).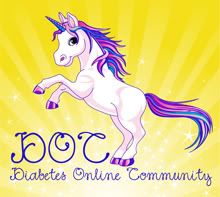 I know some people are reluctant to use the internet for health information  but I am not one of those people. The internet  has taught me a lot about diabetes and how it effects everyone differently.  The internet is full of "good" diabetes information and "bad"diabetes information.   I have learned how to weed out the bad internet sites by sticking to reading blogs, twitter and joining diabetes online communities.  I do seek and value other PWD's (People living with diabetes) opinions; they get it and the information is valuable.      In my opinion,  the Diabetes Online Community is the best resource for trouble shooting, understanding this thing called diabetes and diabetes poo (high and low bg's).    I do not make changes to my pump settings unless I notice high or low bg trend-it has to last for 2-3 days before I tweak anything. If I cannot solve the problem after 5 days, I call my Endo for help. 
Here are a few resourses I use to trouble shoot anything diabetes related:
Twitter (if you have a twitter account-it's amazing, free and fast diabetes support and great resource! beware of spammers)
Please do not adjust or tweak anything in regards to your diabetes care until you have consulted with a HCP (Health Care Professional). 
Be Blessed
Cherise
"This post is my June entry in the DSMA Blog Carnival.  If you'd like to participate too, you can get all of the information at http://diabetessocmed.com/2011/june-dsma-blog-carnival/"